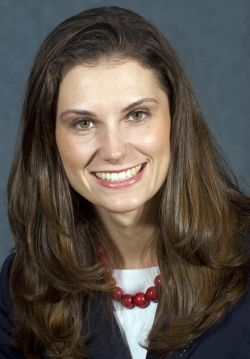 Congratulations to Krystal Ball who secured the Democratic nomination in Virginia's First Congressional District this evening by reaching the magic number of 101 delegates! Her nomination is now all but certain at a May 8, 2010 Convention to be held in Fredericksburg, Virginia.
Via a press release this evening from the Ball Campaign:
Krystal Ball to win nomination for Congress

Ball wins the 101 needed to secure the Democratic nomination

SPOTSYLVANIA, VA. – With contests this evening in Spotsylvania, Westmoreland, and Williamsburg, Democratic candidate for Congress Krystal Ball has secured the 101 Delegates needed for the First Ballot at the Nominating Convention on May 8, 2010 in Fredericksburg, Virginia.

"I am extremely grateful to voters all over the First District of Virginia for giving me the opportunity to fight for them. We surprised a lot of people with this victory and we are going to bring that same energy and focus to take on the Republican nominee in the fall," said Ball.

"Our veterans and military families in Virginia deserve more from their Representative in Washington DC, said Capt. Chris Rey a former Army Officer "Krystal will focus on helping our working families and our small businesses," said Teresa Barton owner of a small business, Barton and Williams School of Dance, in Stafford County.

Due to the strong show of support for Ball, her primary opponent for the nomination Scott Robinson suspended his campaign last week. Ball will go into the convention unopposed and with the requisite number of delegates needed to secure the nomination.

Virginia native Krystal Ball grew up in King George County. She is a graduate of the University of Virginia. She is a small business owner running an educational software company with her husband Jonathan. They live in Fredericksburg and are the proud parents of a daughter Ella, aged 2.