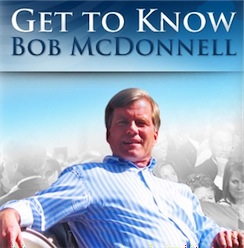 I wish Gov. Bob McDonnell (R-VA) would tell us why he decided to omit slavery from his recent proclamation, which declared April 2010 Confederate History Month. We are in luck, from today's Washington Post:
McDonnell said Tuesday that the move was designed to promote tourism in the state, which next year will mark the 150th anniversary of the start of the war. McDonnell said he did not include a reference to slavery because "there were any number of aspects to that conflict between the states. Obviously, it involved slavery. It involved other issues. But I focused on the ones I thought were most significant for Virginia."
Bob, tell us what you really think! How he can claim that slavery was not one the "most significant" issues of that time period for Virginia shows a total lack of historical understanding – or worse, a blatant attempt to rewrite history.
The reality is that slavery was very much at the heart of Virginia's secession from the Union. Civil War Historian Will Thomas further explains this time period:
Historian and leading scholar of the Civil War, James McPherson answers that secession was a "counter-revolution" not a "revolution." White southerners, he argues, saw the Lincoln administration and the Republican Party as the revolutionaries. The move to secede was a counter-revolution, a conservative effort designed to protect what they had and stem the tide of change sweeping across the nation. All of their resistance, he argues, was aimed at maintaining slavery and their position in society. To McPherson the answer is straightforward–they saw a greater risk in the Union and perceived themselves as the inheritors of the true republican virtues of the Revolution. Their new republic was, therefore, modeled on the "union as it was" before the slavery issue threatened their principles and prosperity. McPherson indicates that the South was in a way seeking to turn back the clock or at least stop time. Their vision was not progressive but regressive.

When you read the four volumes of The Proceedings of the Virginia State Convention of 1861, or an updated history of what the southern delegates said to the Virginia convention (Charles Dew, Apostles of Disunion), however, a number of further considerations become equally important. Virginia, of course, included West Virginia at the time and so delegates came from the far western, mountainous counties too where slavery was less prominent. The convention met for weeks in Richmond and those favoring immediate secession maneuvered to keep the convention in session, hoping for a dramatic event that might tip the votes their way. Eventually, the got their wish, as President Abraham Lincoln called for troops from Virginia and the other states after the firing on Fort Sumter. Lincoln clearly intended to suppress secession in the South and Virginia's delegates voted the next day 88-55 to secede with the South and join the Confederacy.

Let's reconsider, though, what these delegates said.

First, not a single Virginia delegate criticized slavery. Indeed, many of the western delegates were slaveholders and those that did not spoke in support of the institution. No delegate wanted to be branded an abolitionist. Delegates outdid one another to voice their commitment to slavery. Slavery and its protection was clearly in the forefront of their motivations.

Second, slavery was not just an abstract or political issue, but one that for these white men was centered on "property." When Thomas Branch of Petersburg offered his constituents' views in the form of a resolution to the Convention, it was to affirm that "negro slaves are property." Somehow, these white Southerners thought, the North had lost sense of slavery as a form of property and needed to be reminded of the bare, essential nature of the rights the South was going to defend. Branch for his part only needed to state that he would represent the will of his constituents and that meant immediate secession.
The simple point, Bob, is that slavery played a "significant" role in Virginia's secession and furthermore was a central issue to the Confederacy.
Heck, Confederate Vice President Alexander Stephens argued in his Cornerstone Speech that slavery was the chief cause of secession.
If you look at the The Declaration of Causes of Seceding States, you will clearly see that slavery was at the forefront of secession. Take Mississippi, for example, who explained that their reasons in seceding were "thoroughly identified with the institution of slavery– the greatest material interest of the world."
So you ask, who started the practice of recognizing Confederate History Month? Well, it was former Republican Gov. George Allen. This is the same George Allen who throughout his public life has repeatedly made racially insensitive comments and whose actions have further reinforced this perception (see here and here). He too chose to omit any mention of slavery. You can read the full proclamation here.
Then there was former Republican Gov. Jim Gilmore who issued a 1999 proclamation, which, at least, acknowledged the role of slavery in the Civil War.
WHEREAS, Virginia has long recognized her Confederate history, the officers and enlisted men of the Army and Navy and those at home who made sacrifices on behalf of their families, homes, communities, Virginia and country; and that it is just and right to do so and […]

WHEREAS, our recognition of Confederate history also recognizes that slavery was one of the causes of the war; and

WHEREAS, slavery was a practice that deprived African-Americans of their God-given inalienable rights, which degraded the human spirit, is abhorred and condemned by Virginians, and was ended by this war…
Former Democratic Governors Kaine and Warner both chose to abandon these sorts of proclamations. Warner was the first to break with this practice, calling such proclamations a "'lightning rod' that does not help bridge divisions between whites and blacks in Virginia." It sounds to me that Warner would have been a better role model for McDonnell than Allen.
Since this proclamation has come to light, McDonnell has been roundly criticized for omitting any mention of slavery.
Delegate Kenneth Cooper Alexander (D-Norfolk), chairman of the Legislative Black Caucus, issued a statement saying, "Governor McDonnell's proclamation was offensive and offered a disturbing revision of the Civil War and the brutal era that followed. Virginia has worked hard to move beyond the very things for which Governor McDonnell seems nostalgic."
The Democratic Party of Virginia also issued the following press release:
Va. Dems Statement on Confederate History Month Declaration

DPVA Exec. Dir.: 'The McDonnell Administration's intolerant policies and pronouncements threaten to cost Virginia jobs.'

RICHMOND – Democratic Party of Virginia Executive Director David Mills released the following statement Wednesday in response to Gov. Bob McDonnell's failure to acknowledge the significance of slavery in issuing a statement declaring April as Confederate History Month. Mills said:

"Virginia is stronger because of our diversity. Our policies of tolerance and diversity have fostered a strong business environment and made Virginia a great place to raise a family or operate a business.

"Unfortunately, the McDonnell Administration is consistently sending a message to the rest of the nation that Virginia is not a place of opportunity for all. From his refusal to issue an executive order protecting all Virginians from discrimination to his failure to even acknowledge our painful history of slavery, Governor McDonnell has failed to make good on his inaugural promise of 'A Commonwealth of Opportunity.'

"Instead, Governor McDonnell appears determined to take Virginia backwards. The McDonnell Administration's intolerant policies and pronouncements threaten to cost Virginia jobs, as businesses, tourists and families choose to invest and spend their money somewhere else. Over the past eight years, pro-business policies of inclusion and tolerance helped Virginia become the nation's best state to do business and the best state to raise a child. Governor McDonnell's recent actions imperil that progress.

"As Governor of all Virginians, Governor McDonnell needs to acknowledge and protect the legacies and histories of all of the diverse communities that make up our Commonwealth. He can start immediately by amending his recent statement to acknowledge Virginia's complex history and address the role that slavery played in the Civil War.

"By embracing pro-business policies of diversity and tolerance, we can truly build a Commonwealth of Opportunity, rather than taking Virginia backward."
There are some excellent points in this press release. McDonnell's radical political agenda is having a detrimental impact on our reputation and standing within the business community.
Even BET billionaire Sheila Johnson, a "[d]emocrat" who endorsed McDonnell, has had enough.
I must condemn Governor McDonnell's Proclamation honoring 'Confederate History Month,' and its insensitive disregard of Virginia's complicated and painful history, the remnants of which many Virginians still wrestle with today. The complete omission of slavery from an official government document, which purports to be a call for Virginians to 'understand' and 'study' their history, is both academically flawed and personally offensive. If Virginians are to celebrate their 'shared history,' as this proclamation suggests, then the whole truth of this history must be recognized and not evaded.
McDonnell owes all Virginians an apology!