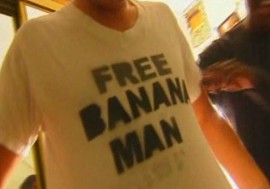 The Banana Man controversy just continues to grow – you know the student who was handcuffed and placed in a police car for running down the sidelines during halftime of a high school football game in a banana suit, suspended 10 days from school and is now facing possible expulsion.
According to WUSA9.com, his mother Tavia Thompson says "she was stunned to find her son handcuffed in a police car when she got to the game."
I also just got done speaking to a reliable source that was working the game and noted how aggressive deputies were acting throughout the game – even before the incident.
I'm so glad that Sheriff Jett (R-Stafford) is taking my article on increased crime in Stafford County so seriously. Clearly, the Banana Man posed an imminent danger to the community and it was necessary to handcuff him and throw him in the back of a squad car. This isn't exactly what I had in mind when I wrote the post. He wasn't arrested and no charges have been filed yet, but I hear that Eric Olsen (R-Stafford) is on the case – that's after he finishes returning the illegal campaign donation.
It's clearly time for a change in Stafford County. Thank goodness that we have two folks who more concerned in keeping us safe then arresting and charging bananas – my vote is for Chuck Feldbush (I-Stafford) for Sheriff and Tim Barbrow (I-Stafford) for Commonwealth's Attorney.
Be sure to sign the petition to Free Banana Man here.
Just how ludicrous is all of this, check out an NBC Washington interview below:
[vodpod id=Video.15444311&w=425&h=350&fv=v%3Dhttp%253A%252F%252Fwww.nbcwashington.com%252Fi%252Fembed_new%252F%253Fcid%253D130384923%26amp%3Bpath%3D%252Fnews%2Fweird]
Just how bad are things getting in Stafford County? We are now the laughing stock of the entire region.