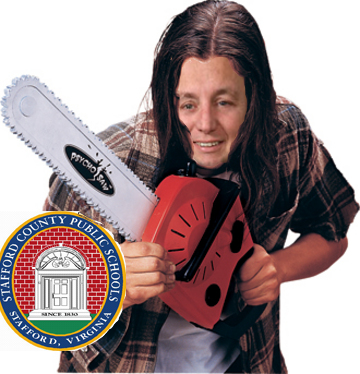 Could a lack of accountability by the Stafford County School Board have led to the hiring of Dr. Karen Spillman, the Colonial Forge High School principal who we discovered—through publicly available sources—was convicted in 2007 in Prince William County, Virginia for public intoxication?
Dr. Spillman's name is all over the internet and social media like Facebook for famously suspending Colonial Forge High School student Brian Thompson ten days following his benign Banana Man [high school football game half-time] prank.
Parents are asking administration officials and their school board members simple but serious questions, such as: what motivated Colonial Forge's new principal and Sheriff's Deputies to "go medieval" on the smart, funny, and high-functioning autistic kid running around the field in a store-bought banana costume? And, is [Principal Spillman] temperamentally well suited to lead Stafford County's academics leading high school?
We believe Superintendent Randy Bridges acted properly in bringing an end to the BananaMan controversy. But does the school system Dr. Bridges runs have the necessary funding to run itself—and to assure proper administrative accountability? Budgets are stretched so far beyond tolerance—we know that because the Stafford County Board of Supervisors, led by its chair Mark Dudenhefer—took a chainsaw to the school system's current operating budget.
Year-after-year, the chain-sawing of school operating budgets gets worse, thus year-after-year, staff members and administrators do even more with much less.
This year, Chairman Dudenhefer gleefully reduced the school system's budgets to the point of utter absurdity. So, it is not outside the realm of possibility that decision-makers in Stafford Schools—who force themselves to do more work with less headcount—look over their shoulders and take time-saving shortcuts to complete critical hiring.
Did overwork and shortcuts [like not using Google or other search engines to query] lead Stafford Schools to avoid necessary due-diligence in regards to vetting candidates for its open assistant principal and principal assignments? Is it conceivable that an overworked senior administrator in Stafford Schools—under pressure from up on high to hire—have rushed the hiring of Dr. Karen Spillman?
We believe that it has.
Could a better-funded school board have identified the bright red flags in Dr. Spillman's curriculum vitae?
Perhaps.