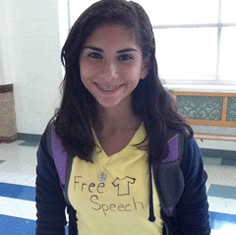 As we reported last night, Stafford County Schools Superintendent Randy Bridges acted smartly and decisively to end the #BananaMan brouhaha; Superintendent Bridges' formal statement apologized for actions taken [by the Colonial Forge High School principal Dr. Karen Spillman and deputies of the Stafford County Sheriff's Department]. From the official statement:
My staff, under my direction, has reviewed the recent actions at Colonial Forge High School relating to the wearing of yellow tee shirts and other activities in support of a student who had been recently disciplined. We have concluded that many of the actions that were taken by the school were inappropriate. We are sorry for any embarrassment or inconvenience incurred by the students who were appropriately exercising their freedom of speech and by the families of those students. This administration and the School Board fully support the First Amendment rights of our students.
The BananaMan tsunami—which, over seven days, was covered as "weird news" by over 150 news-gathering outlets in the U.S. and abroad—is finally ebbing.
But let us be honest. We haven't seen the end of controversy—far from it!
Dr. Spillman's—and Stafford County Sheriff's Deputies—heavy-handed response to fourteen year-old Colonial Forge student Brian Thompson's halftime prank has led many Colonial Forge parents to ask important questions. Such as: who is Principal Karen Spillman? And, why did a harmless halftime prank result in handcuffs and [an initial] ten-day suspension from school?
A Colonial Forge parent living in the Augustine North sub-division spoke to us off-the-record; the parent thought it both odd—and troubling—that Stafford County's SAT score-leading high school would actually deny one of its students two weeks of precious classroom instruction, adding that "[in this case], the punishment did not fit the [Banana Man] crime."
So now, the focus turns to accountability. In regards to the recruitment, candidate-vetting and eventual hiring of Dr. Spillman by Stafford County Public Schools, people are rightly asking: what did Stafford County Schools and the school board know—and when did they know it?
This morning, we reported publicly available information on the July 2007 arrest of Karen C. Spillman in Prince William County for public intoxication. The arrest preceded Dr. Spillman's (2008) acceptance of the Strasburg High School principal post as well as her resignation from the job, fifteen days later for "health reasons." So, we—like so many Colonial Forge parents—wonder:
When Dr. Spillman applied for employment to Stafford County Schools—to be an Assistant Principal—was she forthcoming about her July 2007 arrest in Prince William County for public intoxication?
At the time of her recruitment for the Assistant Principal assignment, did Stafford County Public Schools run the proper [criminal and professional reference] background checks? Did they conduct thorough due-diligence?
And this summer, when the principal's position opened up, did the Stafford Count Public Schools re-evaluate Dr. Spillman's background to replace Colonial Forge High School principal Dr. Lisa Martin, or, did they just rubber stamp Dr. Spillman's promotion to that role?
Jobs are hard to come by these days, especially plum principal assignments in our public schools. In this difficult economy, there may be dozens of applications posted for each open public school principal assignment (even in under-performing school districts). But this is Stafford County—which touts the nation's thirteenth-highest per-capita household income and its reputation for academic excellence. Can the Stafford County Schools and its school board assure us that they vetted Dr. Spillman properly? Were there no other candidates for the Colonial Forge principal's job that could have done as well or better?
Let us be fair to Dr. Spillman: no one rises to the level of Associate Superintendent of Prince William County Schools unless they are truly talented educators and administrators. In fact, we know that in 2006 she applied for Superintendent of Prince William County Schools [to replace the late Superintendent Edward Kelly].
Sadly, Dr. Spillman's 2007 arrest clouded what arguably [has been] a very bright career in the Commonwealth of Virginia's third-largest school system.
But parents at Colonial Forge are wondering aloud about Dr. Spillman's temperament. And are seriously concerned about the safety and civil-rights of their own children. What if [their kids] make a bad choice and take part in some benign high school high jinks: will they too end up in handcuffs, suspended from school, and risking all out expulsion?
Right now, Stafford County Schools has a lot of explaining to do about the hiring of Dr. Karen Spillman to run Colonial Forge High School. Taxpayers need to know.
[Image via Free-Lance Star.]