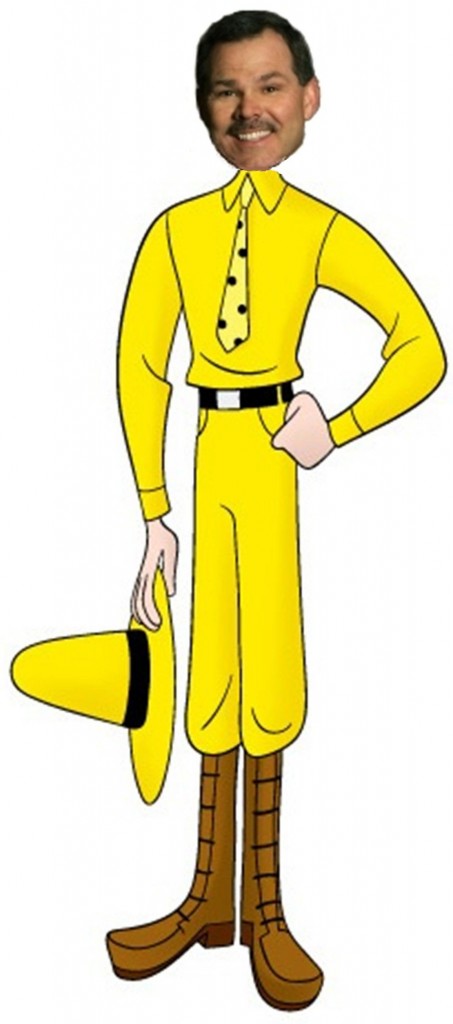 I don't know about you, but here in the Fredericksburg area—during the early autumn months of odd-numbered years—I am struck by how state roads that for two years prior remained pockmarked with Buick-sized potholes suddenly are milled and expertly paved. All of this, courtesy of our munificent Speaker of the House of Delegates Bill Howell. Of course, Bill's up for re-election…and he really wants your vote!
Nuthin' happens around here for no reason.
In Stafford County, it is always about politics. And, the overly aggressive arrest and handcuffing of #BananaMan by Deputies of the Stafford County Sheriff's Department was no accident. That is because this year, Sheriff Charlie Jett is up for re-election…and he really wants your vote!
If the Colonial Forge High School sophomore Bryan Thompson's antics hadn't been captured by a mobile device camera—and replayed on YouTube more than 66,000 times—the BananaMan episode would never have made national or international news.
And none of us would be asking the deep and troubling questions about how a funny, good-natured, high-functioning autistic kid could be punished so severely for a high school prank so benign.
But thanks to social media, Stafford County and the world have gotten a sobering view of how Sheriff Charlie Jett's burning desire for re-election got in the way of common decency…and common sense.
A Colonial Forge parent working the food concessions told us that she wasn't in the stands to see BananaMan's on-the-field brouhaha. But, she witnessed—beforehand—sheriff's deputies acting overly aggressive with some kids buying refreshments.
What is going on here? Are Sheriff Charlie's recent visions of flash mobs looting Stafford County convenience stores affecting his policing strategy? Or, is it just politics as usual for Stafford County—where the winning strategy for re-election as sheriff is to show how tough you are on crime by having your deputies rough up a nice kid in a store-bought banana costume before a large crowd of onlookers?
Stafford Sheriff Candidate Chuck Feldbush (I) thinks it is all of these things and more. "This is the latest example of a department going bananas over harmless kid stuff while real crime – violent crime – is threatening the peace and safety of Stafford County," said Mr. Feldbush.
"Slapping cuffs on a kid – who has a disability – for running down the sidelines at a high school football game in a banana suit is a complete overreach of the authority of the sheriff's department." Mr. Feldbush continued, "It's a disturbing sign that Sheriff Jett has lost control of his deputies – and this is placing our kids at risk."
According to the Virginia State Police, violent crime is up 66% in Stafford.
Where has the Free-Lance Star been on reporting about this brouhaha with law enforcement? The overlords of your hometown newspaper are probably too distracted by thoughts of cashing the $1.3M check they stand to collect for hosting Sheriff Charlie's overpriced $40M public safety communication system on their broadcast towers.
After all, what are friends for?
And where does Stafford County Commonwealth's Attorney candidate Eric Olsen figure in all of this? The overzealous "Law & Order" [intellectual property-stealing] prosecutor is probably fuming that BananaMan's ten-day suspension has ended early and that he won't be able to put the kid on the stand in a jury trial.
But Eric, have no fear. We hear that there was a Grape running amok around Stafford this week, too. (Times a waistin' and you and the Man in the Yellow Hat need to go find him!)
What has BananaMan taught us all? It's politics, stupid!