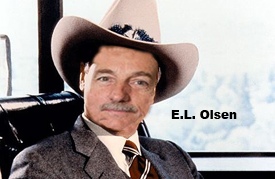 Unless you have been living under a rock, you are no doubt already aware of the lawsuit filed this past Friday by Stafford County resident David Johnston challenging Eric "Law & Order" Olsen's qualification to be on the ballot as a candidate for the Office of Commonwealth's Attorney for Stafford County. The challenge is based on the assertion that Olsen has never established residency in Stafford County.
Yesterday, we wrote about a new wrinkle in the residency challenge. LeavingMyMarc.com first reported that Eric Olsen was registered to vote at 133 Onville Road in Stafford County (at least as of September). This is despite the fact that he has never lived there. As recently as Saturday in the Free-Lance Star, Olsen still maintained that he legally resided at his illegal garage apartment off Poplar Road:
Olsen said the Fredericksburg home is for sale. His wife and their children live in the city home while Olsen is renting an apartment in a home on Poplar Road.
According to the Virginia State Board of Elections:
Under the Virginia Constitution, a prospective voter must be a resident of the precinct where he seeks to register. In order to establish "residency", a prospective voter must show that (1) he has an actual physical place of abode in the precinct, and (2) he is domiciled there.
He is clearly not domiciled at 133 Onville Road, nor has ever been domiciled there. He has repeatedly claimed to be living at 1257 B Poplar Road in a purported "illegal" garage apartment.
We still maintain that he has never abandoned his domicile in the city of Fredericksburg, despite where he claims to be living right now, and believe that Olsen is not a legal resident of Stafford County; thus, he is not able to run for the Commonwealth's Attorney position in Stafford County.
Putting all of this aside for a moment, Olsen now claims on his website that his campaign headquarters is now located at 133 Onville Road, Stafford, VA 22556. James and Karen Moncure currently own this home. So what's the problem? The problem is that none of Olsen's campaign finance disclosure reports show any expenditure to the Moncure's for rent. His reports also do not show any sort of In-kind contribution from the Moncure's for the headquarters. So what is Olsen trying to hide? And, so we have another example of what appears to be him breaking the law!
The reality is that the Moncure's could sure use some money from Olsen, so they can pay off the taxes that they owe. According to the Treasurer's Office, they owe $624.23 (which includes interest) in outstanding taxes on this property.
So exactly who are James and Karen Moncure? They're relatives of Daniel Chichester. Chichester is pulling out all the stops and calling in all of his family connections to ensure that his handpicked successor wins.
For the past 72 years, Chichester and his dad have run the Stafford County Commonwealth's Attorney's Office. He will stop at nothing to make sure that that his family legacy lives on through Olsen, even if that means helping him to cheat the system in an effort to establish residency in Stafford County.
If this was anyone else pulling this sort of stuff, you could rest assured that Chichester and Olsen would be throwing the book at them. You see there are those with family connections that are "above the law" and there is everyone else. In Stafford County, we call this the good 'ol boy network.
Is it too much to expect that someone running for Stafford County Commonwealth's Attorney, to become the chief law enforcement officer, should be held to the highest of standards? This continued skirting of the law by Olsen raises serious questions on his integrity and trustworthiness (i.e. "Law & Order"-gate, illegal campaign donation from a foreign national, his residency and not reporting his campaign HQs on his campaign finance reports). Olsen should be held to, at least, the same standard as he holds others – which are exceptionally high.
It's time to put an end to the 72-year-old dynasty and vote for an individual who holds himself to the very highest ethical standards and is respected amongst all citizens, regardless of party, as being fair and having the best interests of the community at heart. That's why we will be supporting Independent candidate Tim Barbrow for Stafford County Commonwealth's Attorney on November 8. The choice couldn't be any clearer!