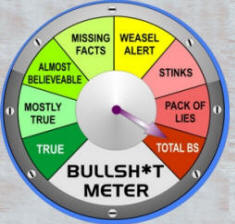 In 2008, when Eric Olsen ran for Fredericksburg Commonwealth's Attorney he had the following to say about his residency, "I have lived in the city [of Fredericksburg] my whole life."
In the voter's guide that was just published by the Free Lance-Star, he now claims to have lived in Stafford County for "Eight years."
So what is it Eric, were you lying in 2008 or lying in 2011? With the tangled web he has spun, with regards to his residency this year, it's possible that he can't even remember the truth.
I can see it now. In 2015, Olsen will be campaigning for Spotsylvania County Commonwealth's Attorney and will claim that he was a resident (in utero this time) there too for several weeks. It's clear that he will say anything to get elected.
This speaks directly to issues we have raised regarding serious questions about his integrity. Whether it's infringing on a well-known trademark, accepting a campaign contribution from a foreign national, lying about his residency or not fully disclosing information on his financial disclosure forms, time and time again he fails to live up to the high standards one would expect for someone running to be the chief law enforcement officer in Stafford County.
At the end of the day, one's integrity and trustworthiness are paramount in defining one's ability to lead effectively. While the issues are also critically important, it's those defining characteristics that are at the top people's minds when evaluating candidates.
In the race for Stafford County Commonwealth's Attorney, only one candidate possesses the integrity and trustworthiness to garner our respect and our votes for this critically important position. That candidate is Tim Barbrow!