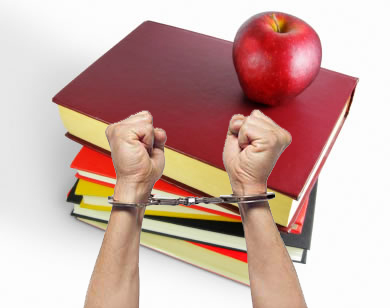 The Republican majority on the Stafford County Board of Supervisors sent a clear message on Tuesday evening to county residents and potential new businesses, "They do not value education and would prefer to play politics with our children's future."
They voted to underfund Stafford Schools to the tune of $5.6 million, providing a total of $100,693.774 in local money. The original request by the School Board was $106,371,217. This is approximately a 5.5 percent decrease from what was requested; and, it is approximately 3 percent less than the amount of county funds transferred to the schools in FY'10.
When adding in other revenue (state and federal), the Board of Supervisors adopted a total school operating budget for FY'11 of $237,261,940.  This is also a nearly 5 percent decrease in the total operating school budget compared to FY'10. The total budgeted amount in FY'10 was $248,480,087.
I know, I know, Republicans will tell you that the school system only estimates that they will spend $233,434,297 for FY'10, so they will claim to have provided a overall year-over-year increase for FY'11. This couldn't be further from the truth.
Here's the truth. In formulating the FY'11 budget, the school system projected a severe decline in total expected revenues. This was partly due to FY'10 non-recurring revenue sources (e.g. carryover funds from FY'09 being expended) and declining state and local revenues. The reasons for declining state revenues were mostly due to economic conditions; however, it was Gov. Bob McDonnell (R-VA) and Speaker Bill Howell (R-28th) who chose to cover the majority of the state budget shortfall by slashing education spending.
Local revenue was declining too, but it wasn't only because of economic conditions. You see, Stafford Republicans decided to exacerbate the county's budget shortfall by repealing the business tax. This is the same tax that was estimated to generate $3.7 million in FY'10 and projected to generate $120 million over the next 20 years. In order to pay to repeal this tax, they used a portion of a school surplus that was discovered last year – due to a county accounting error. Add in the lost revenue from this tax in FY'11 and you're staring down a self-inflicted $11.1 million problem created by Stafford Republicans. These funds could have been used to fully fund our schools.
Stafford Schools were dealing with a projected $25 million plus revenue shortfall for FY'11, due to these fiscal realities, so they took aggressive measures to avoid a potentially catastrophic budget situation. These measures included freezing expenditures of FY'10 federal stimulus funds, closely monitoring discretionary spending and instituting a hiring freeze. That is the reason why FY'10 spending is less than what was actually budgeted. This doesn't mean that the school system doesn't need these additional funds. They just needed them more in FY'11 to avoid a looming budget cliff, which would have resulted in significant teacher layoffs.
You see the school system did the responsible thing. This is more than what I can say for the county whose expenditures have regularly exceeded revenues in recent years. Due to this fiscal irresponsibility, the school system has had to bail out the county on numerous occasions. These bailouts have come at the expense of our teachers and children.
Also, can anyone remember the last time the county had a "clean" audit? In recent years, they have been repeatedly cited for significant deficiencies in their internal controls that resulted in reconciliations between the Treasurer's Office and Finance Department not being performed in a timely and consistent manner throughout the year; and, just last year, they were cited for a material weakness in their internal controls that resulted in the discovery of a school surplus.
Here's how their auditor defines the various deficiencies:
A control deficiency in an entity's internal control over compliance exists when the design or operation of a control does not allow management or employees, in the normal course of performing their assigned functions, to prevent or detect noncompliance with a type of compliance requirement of a federal program on a timely basis. A significant deficiency is a control deficiency, or combination of control deficiencies, that adversely affects the entity's ability to administer a federal program such that there is more than a remote likelihood that noncompliance with a type of compliance requirement of a federal program that is more than inconsequential will not be prevented or detected by the entity's internal control.

A material weakness is a significant deficiency, or combination of significant deficiencies, that results in more than a remote likelihood that material noncompliance with a type of compliance requirement of a federal program will not be prevented or detected by the entity's internal control.
If this doesn't provide a moment of pause for folks, the fact that the Republican majority on the Board of Supervisors decided to take some financial authority away from the School Board by categorically funding the school operating budget this year should. I would think that they would focus on getting their house in order versus micro-managing the School Board.
This same majority on the board claims that by categorically funding the schools that the School Board will be forced to provide step increases for teachers, while denying administrators any raises. This shows how little they understand the school budget and budgets in general. The administrative category doesn't ONLY contain administrators, but also critical "instructional" support personnel. It contains school nurses, occupational therapists, physical therapists, psychologists, speech therapists, social workers, and many other critical positions.
Let's also not forget the other line items in the budget. Without bus drivers to get our children to school, how many of us would have to significantly adjust our work schedules to drop our children off? What about custodians who help maintain a clean environment or school security guards who help provide a safe environment for our children to be able to learn? What about technology teachers or computer technicians?
Clearly all of these employees play a critical role in educating our children. The fact is that the Republican majority on the board has neither "fully funded" the instruction line in the budget or any other lines for that matter. This is how they define working with the School Board. At least Supervisor Cord Sterling (R-Rock Hill) was being honest when he called for folks to fire the School Board. You see the Republican majority has no interest in working with the School Board; they simply want to get rid of them.
It's also easy for them to say that teachers should get a step increase, but any step increase has a recurring annual cost. Part of the money for a step increase approved late last year by the School Board is currently being held in abeyance. Is the Board of Supervisors willing to provide the $3.8 million necessary to fund this step increase annually? I think not. It's just more lip service for politicians more interested in the next election versus educating our children and providing fair compensation to our educators.
For Republicans, it's easier to point fingers at the School Board then at themselves. The 12th richest county in the nation should at least be able to provide fair pay to teachers. Currently, teachers in Stafford County make 10 percent below the national average.
I'd also like to remind folks that even if Republicans provided the same amount of funding to our schools as they did last year, this would still be an overall decrease in funding year-over-year. There are many fixed costs that rise annually, which must be funded. Just this year, health care premiums have risen for employees by 8.2 percent. The school system's share of this increase equates to $1,807,039. What about mandatory increases for the Virginia Retirement System and retiree health insurance to the tune of $2,600,000.
It's also not like operational and maintenance costs are decreasing. School buses are a good example. As part of Gov. McDonnell's school budget cuts, he chose to extend the life of school buses from 12 to 15 years. The cost to maintain these buses past 12 years will be significant.
So simply providing the same amount of funding to the school system year-over-year would actually constitute a funding decrease. As I mentioned above, the Republican majority actually provided 3 percent less local funds than they provided last year.
Our schools are simply not a priority for this Republican majority. You need look no further then Stafford's new 10-point Economic Development Plan where there is no mention of education.
In fairness, this hasn't been a priority of any board for many years. Over the years, the Board of Supervisors have whittled away their local contribution to our schools. In the 10 years preceding 2006, based on past county budgets, 69 percent of county expenditures went towards our schools. In the recently approved budget, we are now down to around 54 percent.
Based on the latest data from the Virginia Department of Education, Stafford County now ranks 117 out of 132 districts in per pupil spending.  The local per pupil spending in Stafford County was $4,050. This is 36 percent below the state average of $5,504. Based on the amount of local funds provided to the school system this year, local per pupil spending will equate to $3,766.08. This is 46 percent below the aforementioned state average.
For those of you thinking that we are spending too much locally on education, I've got some news for you. Based on the projected number of students in FY'10-11 (26,737) and the number of required instructional days each academic year (180), Stafford County is ONLY paying $21 per day (or $3 per hour – based on current 7hr High School day) to educate our children. This hardly seems like a huge local burden.
Let's put what Stafford County pays into better context. Last year, Stafford contributed $5,246,158 to the Rappahannock Regional Jail. They essentially share the costs to run the jail with the state, Fredericksburg, Spotsylvania and King George, based on the percentage of inmates they have currently in the jail. On average, the daily inmate count is somewhere around 950. Based on what we pay, let's say for arguments sake that one-quarter of the inmates are from Stafford. That means we are paying approximately $60 per day to house our inmates. So are housing our inmates more important than educating our children? I say we ask Stafford County Supervisor Paul Milde (R-Aquia).  After all, he is on the Rappahannock Regional Jail Authority and is a former inmate himself (sorry, I couldn't resist).
This sustained underfunding of our schools is having an effect and will have a bigger effect in the years to come. Currently, 53 percent of our schools have failed to meet Annual Yearly Progress; we now have the third highest K-7 pupil/teacher ratio in the state; and 80 percent of our Standards of Learning scores are at or below our neighbors or the state average, according to the Chairman of the School Board's Finance and Budget Advisory Committee. If you seriously think that things are going to get better, based on these very troubling educational measures, you've got another thing coming.
The problem is that the funding problems will be even worse next year; and, the funding cliff that was avoided in FY'11 will be even higher in FY'12. The Board of Supervisors will not be able to rely on federal stimulus funds to supplant what should be a greater contribution to our schools by the county. This is because these funds will expire in FY'11.
What's worse is that the Republican majority on the Board of Supervisors strongly believes that our schools are overfunded, not underfunded. If Supervisors Paul Milde (R-Aquia) and Susan Stimpson (R-Falmouth) had their way, they would have even slashed more from the school budget this year.
Stafford Republicans need to get their priorities straight and fully fund our schools. They constantly talk about bringing businesses to Stafford. I can assure you that businesses are taking notice of the complete lack of support the county is providing to its schools, when making decisions on whether to relocate.
Also ask yourself, what is the first thing someone asks a real estate agent when deciding on whether to relocate to a specific area? They want to know how strong the school system is there.
It's time for Stafford Republicans to make education a priority again!