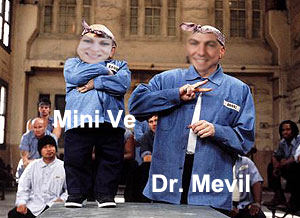 It wouldn't be an election in Stafford without a residency controversy. And, Stafford's non-resident Commonwealth Attorney Eric Olsen is at the center of controversy again – this time sweeping someone else's residency issue under the rug.
Aquia School Board Candidate Vanessa Griffin, following in Olsen's footsteps, has found herself embroiled in a residency scandal of her own.
In August of 2013, a longtime resident of Aquia Harbour and active community member, Kevin Odlum, filed a formal complaint with the Virginia State Board of Elections requesting that Ms. Griffin be disqualified as a candidate for the Aquia School Board seat – based on the grounds that she does not meet the residency and domicile requirements under Virginia Code 24.2-101.
To support his claim, Mr. Odlum provided the following in his complaint:
Ms. Griffin has not proven her intent to domicile at her residence on Pepper Tree Lane as supported by her movement of personal affects via moving truck, the removal and relocation of her pets and complete absence away from the property – she returns to her property to tend to overgrowth in the yard to once again, not to be seen for several weeks when the routine again repeats itself. Ms. Griffin was witnessed to be living in the Aquia Harbour subdivision in the location considered "Section 2" or the Griffis-Widewater Magisterial District at 205 Sail Cove, Stafford, Virginia 22554 owned by her boyfriend, Michael Paul, and where she houses her belongings, her automobile, her pets and where she arises and retires to each day.

Interviews with neighbors along the Pepper Tree Lane corridor will clearly corroborate the fact that she has not been living there.
On Ms. Griffin's Declaration of Candidacy form, she claims 211 Pepper Tree Lane as her "domicile."  The problem is that upon review of the property, it's clear that NO ONE is "domiciled" there. Her property has overgrown grass, pulled shades, grass growth in the driveway and mold on the front of the home.
Mr. Odlum's complaint is also supported by neighbors and by Ms. Griffin's own words. In a candidate profile appearing in the Potomac Local, she claims her boyfriend Michael and his daughter Kallie are her "family." In the Free Lance-Star Election Guide, she repeats her "family" claim stating that she is "in a relationship with Michael Paul and helping to raise his daughter, 5-year-old Kallie." Call me old-fashioned, but if you're raising a child with someone and saying that they are your "family" wouldn't it follow that you are living with them? This claim is supported by neighbors who insist that she has, in fact, moved her personal effects to her boyfriend's residence in the Griffis-Widewater district – which would disqualify her from running for the Aquia School Board seat.
Lucky for Stafford residents, Stafford's non-resident Commonwealth Attorney is on the case. In an absolute twist of irony, the Virginia State Board of Elections asked City of Fredericksburg resident Eric Olsen to investigate – it's like the fox guarding the chicken shack. Wait for it…after an interview with Ms. Griffin, an examination of her voter and candidate filings and an examination of the information provided in Mr. Odlum's complaint, Fredericksburg's own Eric Olsen determined that there was no violation. That's right, the guy whose claimed Stafford residences including a garage and a crony's rental property with no electricity, who said he only went to his own home in Fredericksburg, 22401 for "conjugal visits" during his 2011 run for Stafford Commonwealth Attorney, gave Ms. Griffin a pass. Oh, the irony!
The real question is why is Ms. Griffin going to such lengths to hide the fact that she isn't living in Aquia District? Could it have something to do with the fact that she is in cahoots with Aquia Supervisor Paul Milde? According to campaign finance reports, Milde is one of the largest contributors to her school board campaign.
Earlier this year Ms. Griffin began attending meetings with the Stafford Democratic Committee and even flirted with the idea of running against Paul Milde for Aquia Supervisor – even agreeing with their Chair that it "appears to be true" that Milde had been bought by developers and that she finds this to be "unsettling." She goes on to ask the SDC candidate search committee chair, "What kind of support does the Democratic Party offer it's candidates?"
Ms. Griffin wrote that if she got the financial support that she mentioned, then she "would run against Milde this year." However, "it would have to be worth all of the appointed positions that I would likely have to give up." Those are the appointed positions that Paul Milde gave her.
So when Ms. Griffin couldn't get the money she demanded from the Democrats to run against Paul Milde, she had a sit down with Milde who paid her off for not running against him for Supervisor. Milde's poured thousands into her campaign coffers for School Board. If you can't beat 'em, buy 'em!
Is this the sort of person that you want serving in a School Board position in Stafford County – looking after the well being of our children? Integrity matters!
Do you want Paul Milde, who because of his extensive criminal record couldn't even get a job sweeping floors in a Stafford school, to have a bought-and-paid for puppet to push his radical agenda on our children? Maybe Ms. Griffin can help him get a nice plot of land for his toxic spewing incinerator. She's already proven that she's only looking out for herself – unless of course, you're sitting on a pile of money as high as the rubble piled in Aquia Town Center.
Even the Stafford GOP has turned their back on her – un-endorsing her candidacy after endorsing her. The "Republican on Republican" in-fighting in the Stafford GOP has reached astronomical levels.
I urge Aquia residents to stand up for integrity by voting for Irene Egan for Aquia School Board on November 5th!