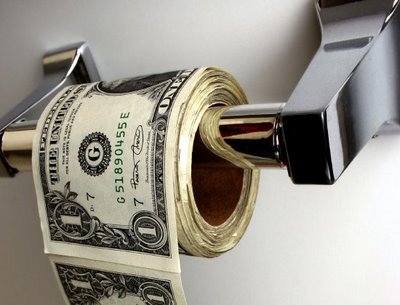 I'm betting many residents are not aware that Sheriff Charlie Jett (R-Stafford) was the lead acquisition official in charge of Stafford County's procurement of a $40 million public safety radio communications system from Motorola.
In past blog posts, I've alluded to my outrage over this purchase. In this post, I want to elaborate a bit on just how bad of a deal this was for Stafford taxpayers; and, make the case that we are in desperate need of procurement reform in Stafford and new leadership.
Let me be clear. My main concern was with the overall cost of the system and the procurement process. I recognize that we absolutely needed to upgrade our outdated system and that the 700 Mhz Project 25 compatible system purchased from Motorola appeared to be in full compliance with Virginia's Strategic Plan for Statewide Communications Interoperability.
It wasn't until the Economic Development Authority (EDA) was asked to approve funding, in 2007, for bonds in order to finance several capital projects approved by the Board of Supervisors, which included this system, that significant flaws in the procurement process began to come to light – not to mention a complete failure of leadership from our elected officials.
To start off, why on earth was the Board of Supervisors asking the EDA to approve funding for the issuance of Lease Revenue Bonds, rather than the more appropriate and less expensive General Obligation Bonds?
Per Wikipedia, "a revenue bond is a special type of municipal bond distinguished by its guarantee of repayment solely from revenues generated by a specific revenue-generating entity associated with the purpose of the bonds." Can anyone tell me what "revenue" is being generated by this public safety radio communication system? Is anyone else scratching his or her heads? You should be.
Plain and simple, the Board of Supervisors did not want to fund this with General Obligation Bonds – as they would require approval from Stafford County voters, and not just the EDA as is the case for Lease Revenue Bonds. They simply didn't want the added level of scrutiny on this procurement. It was a bad deal for taxpayers and they knew it from the start.
Worse yet for taxpayers, Lease Revenue Bonds generally carry a higher interest rate than General Obligation Bonds. According to notes, which I've obtained from a November 16, 2007 meeting of the EDA, it was estimated that that Lease Revenue Bonds would cost $750K more than if these projects were funded with General Obligation Bonds.
Talk about a bad deal. If you're upset about the financing chosen, you probably won't be surprised that there was little concern by the Board of Supervisors and Sheriff Jett over the cost of the system – in general.
In a September 30, 2007 memo to the Board of Supervisors, EDA members Ted Hontz and Jack Rowley wrote about their concerns over cost not being an "important enough parameter in the development of options" in the Request for Proposal (RFP).
They went on to express their significant concerns over the emphasis of performance over cost containment and wondered whether the goals specified in the RFP lead to the contractor discounting cost as a factor; thus, proposing a system with "more expensive characteristics." They ended up performing independent research on similar systems by the same vendor and concluded that the procurement may be "overpriced by $4M to $10M."
Hontz and Rowley wrote, "A 700 MHz, Project 25 system like the one recommended for Stafford in Johnson County MO is projected to cost $23M; however, Johnson County MO is over 1.7 times the area of Stafford and the population is over 4 times as large as Stafford."
A similar system in Albemarle County, which was developed by the same consulting company used in Stafford, relied on significantly fewer cell towers than what was being proposed in Stafford, even though the coverage area was three times that of Stafford. When prodded by Hontz and Rowley on why lower cost options were not presented, the consultant hired by Stafford County indicated that Albemarle County was financially constrained in their procurement. Whereas the consultant provided lower cost alternatives, such as repeaters, to Albermarle, no such options were provided to Stafford. The consultant also indicated that the Board of Supervisors directed him to only consider the existing shorter towers rather than a potentially much less expensive option with fewer taller towers.
During the November 16, 2007 EDA meeting, Rowley also noted a huge conflict of interest that existed. The consultant that Stafford hired to advise the county on this procurement would benefit $800K for their work on the project and their ongoing billings were estimated to be $200K per year. Conflict of interest anyone?! You have to wonder whether or not the consultant was motivated to choose the most expensive solution, since it would have a direct impact on their bottom line.
Hontz separately wrote that the process did not include a Validation of Requirements or it's equivalent; an Analysis of Alternatives or it's equivalent; and the consultant didn't provide lower cost alternatives, like they had done in other counties to meet cost constraints.
How could a system of this magnitude be procured without any sort of validation of requirements? Hontz and Rowley wrote, "We are unable to comment on appropriate levels of coverage but do note that in Albermarle County, the decision was made not to require 8 db in-building coverage in rural areas but instead to require 95% on ground coverage. No known analysis was done to determine cost and coverage tradeoffs in this regard for Stafford's system."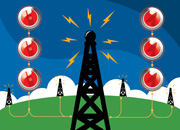 So in the end, a system was procured that endorsed a "many" cell tower leasing approach (13 in total) – with no new towers to be considered.
When you take into account the subsequent leases, the cost of this system rises by between $10 and $15 million over the next 30 years. It's also unclear, from my research, what costs may be incurred by the choice made to modify certain county-owned towers to accommodate the additional gear. When you add in this additional cost to $23.8M reported price tag of this system, you're looking at least at a $40 million system over 30 years.
Hontz and Rowley rightfully concluded, "the robustness of this system, and the cost, exceed that of any other municipal system that we found in our brief research."
Worse, in talking to folks familiar with cell tower leases, the long-term leases negotiated on these cell towers seem to be only a good deal for the tower owners and not taxpayers. The 4% to 5% annual escalation rates on the leases are considered quite high. I was told that 3% annual escalations are usually considered medium to high.
Part of the reason that Stafford is paying so much is that they designed a very complex, expensive "many" cell tower system, which has a large amount of gear on each of the towers – displacing other potential users. The county will tell you that they are free to cancel these leases anytime; however, folks familiar with the system have explained to me that Stafford will NEVER cancel any of the leases, due to the complexity of the system design and the fact that any re-configuration of a lost tower or towers will come at a significant cost.
It's no wonder this ended up being such a bad deal for Stafford. After all, why in the world was Sheriff Jett the lead acquisition official in charge of this procurement? He had no background or education, that I'm aware of, that would lead to him being an acquisition and contracting expert. It was Jett who asked the Board of Supervisors to approve the negotiated leases (see here and here, as examples). Shouldn't this have come from the Stafford County Administrator, Anthony Romanello?
When EDA members questioned and pointed out problems with this system, a funny thing happened. No one was jumping up to take credit for it. According to sources close to the procurement, Jett's reaction was to accuse anyone who pointed out any problems with the system as intentionally trying to hurt the police and firefighters. Apparently, Jett wasn't too concerned with the taxpayers – or the fact that if he had saved some money on this system, he could have better supported raises, benefits or bonuses for his own people! How getting a good deal for Stafford would hurt police and firefighters are beyond me.
Maybe Jett was pushing the "sweetheart" leases for other reasons. After all, under the tower lease with the Free Lance Star they will make $1.3M over the next 30 years. One has to wonder what promises (or ideas for stories) may have been exchanged?!
Maybe if Jett paid more attention to fighting crime, instead of procuring overpriced systems, we wouldn't have seen a 66% rise in violent crime over the last five years.
In fairness to Jett, he isn't the only one to blame. There's plenty of that to go around.
The Stafford County Board of Supervisors failed all of us too. There were only two supervisors who stood against this huge waste of money. They were former Supervisors Pete Fields (D-George Washington) and Joe Brito (I-Hartwood).
In the end, it was the Republican-led Board that mustered the necessary votes to actually pass this thing. And one of those Board members, Mark Dudenhefer (R-Garrisonville) now wants everyone to vote for him in Virginia's newly created 2nd House District. Sure, let's reward him for his complete lack of leadership. Thank goodness he is being challenged by Esteban Garces (D-VA-2nd). He understands what leadership is all about.
And getting an honorable mention is former Griffis-Widewater Supervisor, Jack Cavalier (I-Griffis-Widewater). Apparently, this huge waste of money wasn't that important to him – as he didn't even bother to show up for the vote. Now that is leadership – NOT! This is the same individual that wants everyone to vote for him again. Are you kidding me!
It's time that logic and good stewardship of our tax dollars return to Stafford. Sheriff Jett, while he may be a personable, likeable guy, must be held to account for his failure in leadership and for a complete lack of results (see increase in crime numbers and budget). It's high time that we got a new sheriff in town whose sole focus was fighting crime and his name is Chuck Feldbush (I-Stafford). Being more fiscally responsible with our tax dollars wouldn't be bad thing either.