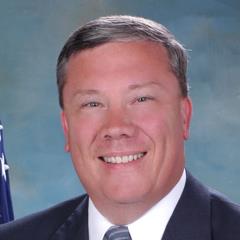 Here's the transcript of Chuck Feldbush's (I-Stafford) recent event to kickoff his upstart campaign (my emphasis included):
I stand before you as the Independent Candidate for the Office of Sheriff here in Stafford County. When I made the final decision to run for the Office of the Sheriff, I knew that there were numerous obstacles standing in my way. I was not born or raised here in Stafford. I didn't grow up with any of the well known families that are prominent in Stafford County and I didn't grow up with the boys that grew up on the streets of Stafford. I guess the bottom line here is that I am by no means one of the good ole boys. I consider myself to be a consummate professional dedicated to Law Enforcement and every facet involved with it.

Three years ago on June 29, 2008 a friend of mine that I have known since my days of growing up in Woodbridge was shot and fatally wounded at the rear basement door of his residence while his wife and a neighbor stood with him. It had been learned that Mr. David Gandy had had an altercation with his youngest son earlier in the evening and had been drinking when he made the statement that he would "Just shoot himself". Mr. Gandy's son believed that his dad might carry this threat out and as a result notified the Stafford Sheriff's Office for their "assistance and help". When the (4) deputies arrived on the scene that evening they spoke with Mr. Gandy's son for under a minute and then promptly "Barnstormed" the back yard of the residence. Within (3) seconds Mr. Gandy was shot (3) times in the back and side with a .223 Assault Rifle carrying copper jacketed rounds.

It was not until the Civil Trial in Federal Court started on August 1, 2011 that all the facts were learned. Each of the (4) deputies involved in the shooting were all "IMPEACHED" during their testimony. This ladies and gentlemen cinched the decision for me to run for the position of Stafford County Sheriff. We all know that an individual needs a better reason to run for political office than to just say I want to run. It was very easy for my campaign to make the decision as to what the issues would be for this election. They are as follows:

1. The Budget: The 2011 budget for the Sheriff's Office is just a few dollars shy of (21) million dollars. This is a staggering number considering that just as early as (6) years ago the Sheriff's Budget was a little over (13) million dollars. In the last (6) since years the Sheriff's Budget has increased a whopping (52) percent.

2. The Crime Rate: In a June 12th 2011 edition of the Free Lance Star an article was written concerning the crime trends across this country and the State of Virginia. The article went on to say that while those trends were down the Fredericksburg region was still quite high. In fact the article showed that Stafford Counties crime trends were very high. The violent crime rate was well in excess of (13) percent, while the property crime rate was a whopping (20) percent. In doing the research of the trends since 2005, it has been learned that Stafford County's crime rate has soared a staggering (60) percent. The violent crime rate since 2005 has soared an unbelievable (66) percent. Ladies and gentlemen these are alarming numbers, and there has been absolutely no accountability to the people in Stafford.

3. The training that the deputies go through in this jurisdiction is done through the Rappahannock Criminal Justice Academy. It is also known as a minimum standards program, meaning that our deputies do not get the same training as do the police departments just to the north of Stafford in Prince William or Fairfax Counties. The number of weeks attended in the respective academies is significantly different. Under my administration my goal is to significantly change the training program that deputies go through prior to being released to the street for duty in Stafford County. These deputies will be trained to deal with mentally ill patients as well as suicidal subjects so that we never have to go through again what the Gandy family of Stafford County has gone through for the past (3) years.

4. My fourth goal is to enhance the communications that the Sheriff's Department has with the businesses in Stafford County. Businesses in this county will not have to worry whether or not their case is worked and they will never be told by this "Sheriff" that "we will not be working their case'.

5. Accountability: Over the last (12) years that Mr. Jett has been in office here in Stafford County, there that been little to no accountability to the people of Stafford County what so ever. It has been business as usual with this Sheriff's Department. It is time that changes. Our slogan for this campaign is a very simple one. "Change" through Integrity, Loyalty, and Commitment. It can be no other way. If the people do not trust their Law Enforcement, where do they go!

Over the next several days, weeks and months our campaign will do everything possible to make sure that we reach as many of the voters and citizens as is possible. The message is clear and strong! We need change in Stafford County Law Enforcement, and there has never been a year like this year to accomplish that.

Thank you and on we go to November!
Feldbush touched on a few points that I've made about the need for accountability and results in the Sheriff's office. Overall, it's a nice start to his campaign. On November 8th, it's to time to JETTison Jett and vote for Chuck Feldbush (I-Stafford) for Sheriff.