According to the Center on Budget and Policy Priorities,
A family of four in the exact middle of the income spectrum will pay only 4.6 percent of its income in federal income taxes this year, according to a new analysis by the Urban Institute-Brookings Institution Tax Policy Center. This is the second-lowest percentage in the past 50 years.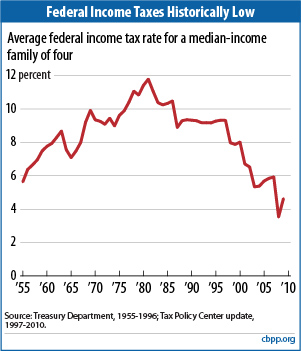 Of course the Tea Party crowd still thinks that taxes are way high, right?  In a recent CBS News/New York Times poll, 52 percent of Tea Party supporters believe that "their taxes are fair." The poll also goes on to say that 62 percent of Americans overall "describe the income taxes they'll pay this year as fair" and that "just one in five Americans say they support the Tea Party movement."
Despite all of this, a separate CBS poll found that "64 percent of Tea Party supporters think the administration has raised taxes." Wow, Tea Partiers aren't to good with the facts. Go figure.
The reality is that "federal taxes are very considerably lower by every measure since Obama became president…In fact, 40% of Obama's stimulus package involved tax cuts."
I guess the facts don't work well for them.