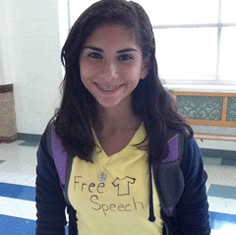 Professor Rao isn't the only one speaking out about the violation of student's free speech rights in the wake of the Banana Man controversy. His daughter, Tizrah Rao, is a Colonial Forge High School student who became engulfed in the controversy when she wore a yellow t-shirt that read "Free the banana man" in support of her classmate. An assistant principal confiscated the t-shirt.
Of Brian Thompson (a.k.a. Banana Man), Tizrah explains her support by saying "he's a nice kid" and that the suspension was unfair and "didn't match the crime."
In response to her t-shirt being confiscated on Wednesday, she wore a yellow t-shirt that read "Free Speech" on Thursday. The result was that the same assistant principal asked her to take it off.
ACLU of Virginia Legal Director Rebecca Glenberg supports Tizrah's constitutional right of free speech. On Thursday, she sent a letter to Colonial Forge High School Principal Karen Spillman that supported her right, "Based on our understanding of the facts, it appears that some students at your school have strong feelings about the discipline of a fellow student, and that they have chosen to express those feelings in a passive, non-disruptive manner. We ask that you respect their constitutional right to free speech."
If all of this wasn't enough already, we learned last night about Principal Spellman's heavy-handed past in Prince William County. Given her checkered past, it is certainly fair to question her judgment (and the judgment of our school system who hired her).
It also appears that the Sheriff Jett is in damage control and is now claiming that Brian cursed at deputies, which is why he was handcuffed and thrown into a squad car. Another boy has already come forward and admitted to being the one who cursed. With violent crime up 66% in Stafford County, Jett is so focused on bananas and not on the real criminals. With him facing re-election this year, his prospects of re-election continue to plummet.
Please don't forget to sign our online petition to Free Banana Man here. Over 200 signatures strong already!
[Image via Free-Lance Star.]