The recent "Banana Man" incident at Colonial Forge High School has brought to light some serious past actions regarding Principal Karen Spillman. LeavingMyMarc.com has uncovered that Prince William County police charged "Karen C. Spillman" with Public Intoxication in July 2007 (click to enlarge photo):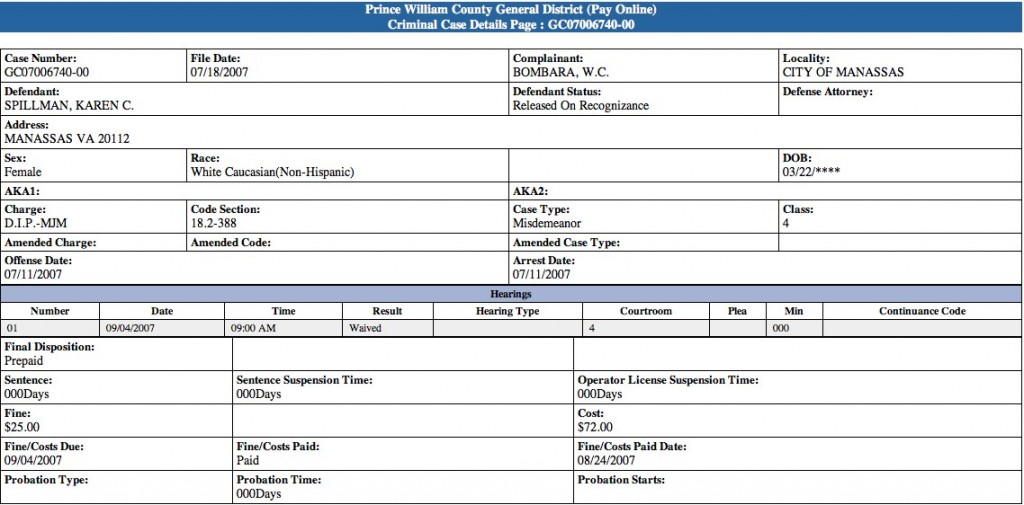 It now appears that this may be the "health reasons" on why Spillman resigned (was pushed out) her post at Strasburg High School in 2008 – 15 days after being hired.
Given Spillman's checkered past, how on earth did the Stafford County School Board hire this woman in the first place? It's clear to me that their "hiring standards" need some serious updating!
I have quite a bit of respect for our school board members, but their silence through this whole ordeal has been very disappointing. They need to IMMEDIATELY remove Spillman from her post as Colonial Forge's Principal.
I also believe that we need to revise the "hiring standards" for senior positions in our school system. We need even wider community involvement and input!
We need leadership from our elected officials NOW and not more deafening silence. If I were on the school board, I would have shown some decisive leadership. Letting the "Banana Man" incident fester for a whole week and still not dealing with the issues surrounding Spillman is a complete failure by our elected officials (and those currently seeking office) and has allowed this situation to get so out of control. Stafford County is now the laughing stock of the entire world (check out our petition – and continue signing it to send a message that Spillman should be removed).
We need strong leadership NOW!