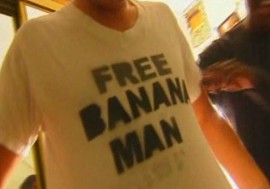 UPDATE 2: Stafford County Schools Superintendent Randy Bridges has just issued a lengthy apology:
"My staff, under my direction, has reviewed the recent actions at Colonial Forge High School relating to the wearing of yellow tee shirts and other activities in support of a student who had been recently disciplined. We have concluded that many of the actions that were taken by the school were inappropriate. We are sorry for any embarrassment or inconvenience incurred by the students who were appropriately exercising their freedom of speech and by the families of those students. This administration and the School Board fully support the First Amendment rights of our students."
Very nice apology from Randy Bridges!
Given the inappropriate actions by the school, I can't see how Spillman is allowed to continue in her current capacity – not to mention the serious revelations about her past.
UPDATE: It's important not to forget about all the other student's who have been punished for peacefully demonstrating, whether it was wearing a t-shirt, painting words of support on their car or bringing a bag full of bananas to school. Have their punishments been dropped? If you have any information on this, please use the contact form here. If you're a parent of one of the children who have been punished and are willing to share some details, you can also use that same contact form. The School Board needs to intervene for these children too, since they were only exercising their constitutional right of free space!
NBC Washington is reporting that "the final five days of Banana Man Bryan Thompson's 10-day suspension have been suspended." He isn't able to attend tonight's Colonial Forge's football game, but after that he may return to class.
I guess the pressure from the public was too much for the School Board to take, rightfully so. I still believe that the School Board should immediately fire Principal Spillman. Her conduct throughout this entire process and revelations about a past incident in Prince William County clearly shows that she should have never been hired in the first place. The school system has a lot to explain. Do they not check past references?
I'm told from folks up in Prince William County that there is a lot more to her leaving her post up there, although I don't want to publish anything until I'm able to confirm some additional facts.
Long live Banana Man!